Taking the SAT and ACT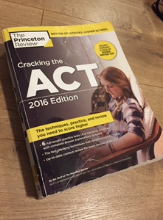 Hang on for a minute...we're trying to find some more stories you might like.
The first two Saturdays in December marked the dates of the SAT and ACT tests. These are standardized tests for college admissions and students are required to take them for their application process. Many students at Prairie High School took these approximately three and a half hour long tests.
Senior Molly Packer has taken both of these tests and believes that the ACT is harder than the SAT because it is, "more questions with less time." The ACT is also more math and science based, which Packer admits are harder subjects for her.
Packer does not feel that these tests are an accurate representation of her as a student. Packer states that she, "is not the best test taker," and has many other strengths as a student that these tests do not do justice in representing.
Colleges heavily weight the ACT and SAT scores in their admissions process and Packer can see, "how it would be stressful trying to get the needed score," in order to get into a certain college, despite what high school grades might be or other activities one might be involved in.
Ethan Jensen, a junior at Prairie, also took the SAT this month. Jensen feels that the test was, "easy, but it takes forever."
Similar to Packer, Jensen does not agree with the fact that colleges put so much stress on this test. He feels that, "everybody has bad tests sometimes. If you have a good GPA and are taking hard classes, [colleges] should look at that more."
Jensen used an app on his phone to help him study and he plans to take the test again now that he knows what to expect.
Both Packer and Jensen would recommend to those still needing to take the test to, "not spend too much time on one question." There are a lot of questions and very little time.
The next ACT test date is February 9, 2019 and the next SAT test date is March 9, 2019. Students can sign up for these tests on the national ACT and SAT websites.