The Giving Season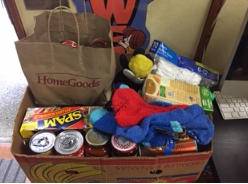 Hang on for a minute...we're trying to find some more stories you might like.
Christmas is often seen as a time to give and Prairie High School is working to continue this tradition. Currently, different clubs at Prairie are simultaneously conducting different charity drives, of which include a toy, sock, and food drive. Students bring donations to their first period class where they then compete with other classes to see who can bring in the most donations.
National Honors Society (NHS) is in charge of the food drive. NHS president, Mallory Mendoza, wanted to put on this food drive because, "tons of families are in need," and this is an, "easy way to help."
Mendoza feels that people often forget, "how fortunate they are to have food on their plate every night." She believes it is important to understand the circumstances of others that may be less fortunate to know how to best help them.
Among the students that donated was junior Kyra Crosby. Crosby donated canned foods, fuzzy socks, and stuffed animals. Crosby thinks that Christmas is a time to, "think about what you have and give to others to make things more equal."
Crosby believes that if you are able to donate, "you should because everybody deserves [food and toys]. Nobody deserves it more than anybody else."
Mendoza believes that Christmas brings a, "giving spirit." She clarifies that this does not necessarily mean giving presents, but rather, "happiness and positivity."
To continue this spirit of giving, Mendoza advises to do, "simple things like holding the door open." She firmly believes that "acts of kindness promote Christmas spirit."
These charity drives are an example of how students and teachers can give this season. With the holidays soon approaching, what will you do to be in the giving spirit and share the goodness?