Thanksgiving Traditions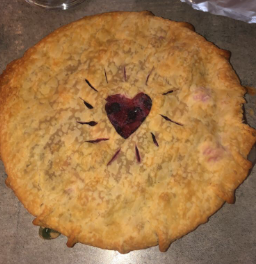 Hang on for a minute...we're trying to find some more stories you might like.
Turkey, traveling, shopping, oh my! As always, the third Thursday in November is celebrated to remember the first dinner shared between the pilgrims and Native Americans in early America. Thanksgiving this year, fell on November 22, 2018. This is a time for friends and families to get together, eat good food, and enjoy the season of giving.
Bella Millet, a junior at Prairie High School traveled all the way to New Orleans, Louisiana this year. There she visited family, where, as southern tradition goes they ate lots and lots of food. Millet's favorite is ham, as she prefers dinner over dessert, but her least favorite Thanksgiving food is stuffing. Millet describes it as, "soggy bread."
Sophomore, Bailey MacKenzie also spent time with family. MacKenzie's favorite tradition is going to his uncle's house as he does every year. There, MacKenzie gets to eat his favorite Thanksgiving food items, ham and stuffing. MacKenzie is definitely a dinner person since his least favorite thanksgiving item is sweet potatoes with the marshmallows on top. Also, contrary to popular opinion, he does not like pumpkin pie and thinks it is, "really gross."
Both of these students gave their opinion on Thanksgiving's staple food item, turkey. When asked if she likes turkey, Millet stated, "Kind of, but it's too dry for me." MacKenzie agrees saying, "Yeah [I like it,] but it's dry."
For adults, such as Mary Sorenson, an English and floral teacher at Prairie High School, she also looks forward to spending time with her family, which she got to do when she went to her mom's this year. But, Sorenson gets especially excited for seeing her kids, as they're all adults now and the holiday season is a time for all of them to get together. Mrs. Sorenson's taste buds seem to be more sophisticated, for, unlike many students at Prairie, the food she enjoys most on thanksgiving is cranberry sauce.
Sorenson also relishes a dish you wouldn't normally see on a thanksgiving dinner table; a Norwegian potato dish called Lefsa. Mrs. Sorenson's sister in law makes it and she describes it as like, "a flat potato crepe that you put butter and sugar on."
The day after Thanksgiving has been marked as a national event, Black Friday. In past years, all stores would open early and have deals on almost every item. Lines would be out the door and down the streets of people waiting to get in to save money while starting their Christmas shopping. Most recently in the past few years, the culture of Black Friday has changed. Now, stores are open and shopping can begin the night of Thanksgiving. No longer is the waking up while it's still dark out to be the first in line.
Bella Millet has never gone Black Friday shopping, but she thinks it is, "Not fair to other people with families who have to work [on thanksgiving.]" Bailey MacKenzie wanted to go shopping on this Friday, but, being only a sophomore and still 15 years old, MacKenzie can't drive and nobody would take him. Mackenzie also agrees with Millet on shopping thanksgiving night, saying people should, "Be with their families and not shopping."
As this thanksgiving season has come to an end, people get to prepare for the next season of giving, Christmas.