Soccer Ends the Season With a State Place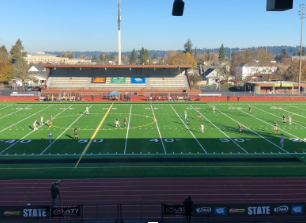 Hang on for a minute...we're trying to find some more stories you might like.
On Friday, November 16, the Prairie Falcons girls soccer team played in the state semifinal game against Holy Names. This game was to decide who would play for the state championship, or who would play for 3rd or 4th.
Going into the second half of the game, Prairie was down 2-0. The Falcons took the field a little down, but senior, Savannah Harshbarger's, goal off of a freekick gave the team a boost of energy. Unfortunately, the play didn change enough as this was the Prairie's only goal. The game ended with Holy Names winning 3-0.
This loss meant the Falcons played the next day, Saturday, November 17, at 10:00 a.m. This was the game that would decide if the 2018 girls team would make history. 4th place being the highest the Lady Falcons have ever placed at state, this team had the chance to place 3rd.
Down from losing the day before, Prairie took the field to face off against Kamiakin High School. Even with the starting lineup slightly different, the Falcons still dominated the first part of the game. A repeat from the day before, Prairie was down 2-0 at half. Kamiakin scored again in the second half, ending the game with a Prairie loss 3-0. But, the loss wasn't too devastating, as the Falcons placed 4th at state.
Despite the loss and not making history, senior, Savannah Harshbarger, was still happy with the results. Harshbarger said she, ¨Didn't even know if we were going to win league and we ended up getting 4th, in state.¨The team also still accomplished their goal; to place higher than last yearś 6th state place.
Graduating this year, Harshbarger would like to tell her teammates who will be playing next year to, ¨Make the most out of every season because high school soccer is so fun, and too embrace the time you have because it goes by so fast.¨
For next year's season, junior, Haley Reed, who will be captain next year, says her goal is to win state, even if it is, "a little wishful." Reed also wants to, "continue the streak of winning league."