Six Falcons Sign Their Life Away For The Next Four Years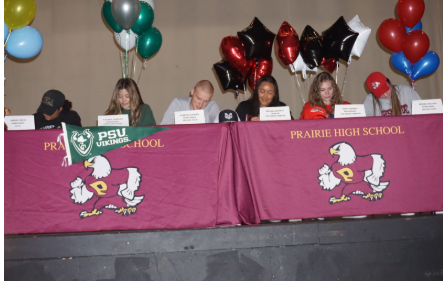 Hang on for a minute...we're trying to find some more stories you might like.
Six falcons signed their national letter of intent last Wednesday in the auditorium with friends and family there for support.
Brooke Walling, Jordan Chiles, Cassidy Gardner, Kameron Osborn, Malaika Quigley and Katie Vroman all signed their national letter of intent last week. Chiles said that she was "excited and happy because i got to sign with my friends and it was really fun." Chiles is going to UCLA on a gymnastics scholarship and she is beyond excited to finally be committed. "Just actually signing because i've been verbally committed for five years so it was exciting to make it official."
Quigley is also extremely excited to go play soccer for Southern Oregon University. Quigley has been verbally committed since her sophomore year and is happy to make it final. She says that its "Rewarding and it gives me relief because i know i'm going to one school and it reliefs a lot of pressure for what i'm going to do after high school." Quigley is still "working on soccer and keeping my grades up but mostly just keep working on soccer."
All athletes will probably say that they are beyond excited to go to college and they are very thankful for the opportunities they have. Quigley says "Knowing that everything i worked for has finally paid off" and i'm sure the other four athletes would say the same.