All About HOSA!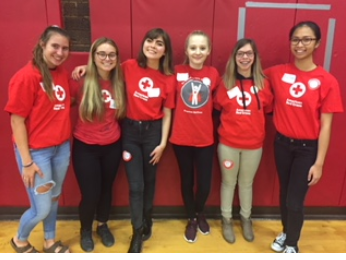 Hang on for a minute...we're trying to find some more stories you might like.
HOSA is a wonderful club the school provides for aspiring students who want to go into the medical field. If you heard about or even went to the blood drive at the beginning of the year, you have already gotten a taste of what they do. Grace Hausherr, the president, explains the importance and meaning of HOSA, "HOSA is an outlet for students to explore the many avenues in health care. It serves as a team building environment to help prepare students for life outside of highschool." Hannah Kneeshaw, the treasurer adds, "We get to talk a lot about medicine and ways to make our school better. We help out in the community and run the blood drive for our school, and we plan a trip to compete in the state competition where our medical skills and knowledge are tested."
Kneeshaw, and Hausherr were happy to tell about how fun, exciting, and  what their favorite parts of HOSA are. Hausherr said her favorite part is, "Competing in the spring at the state leadership conference, and giving back to my community." Kneeshaw also talked about her favorite parts as well, "The community [is my favorite] because everyone is interested in the same things, including Mrs. Levine, the advisor, who makes anyone's day better! Also, the blood drives are fun to do, it's a chance to hangout and interact with students and learn bedside manner."
We can look forward to seeing more of HOSA during the next blood drive on December 7! Also keep an eye out for the charity they will be doing, "We will be teaming up with the blanket brigade to collect blankets and warm clothes for those in need this winter. We will also be selling a variety of first aid kits to keep you and your loved ones safe this holiday season." Hausherr informs us. HOSA is a great program that has benefited the school and community and we can't wait to see them in action in the future!