Prairie's Public Arts Class Creating Art For All To See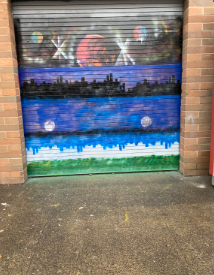 Hang on for a minute...we're trying to find some more stories you might like.
Prairie's public arts class, which started at the beginning of the year, is the reason for all of the artwork to be seen around Prairie High School.
This class, which is taught by Mr. Shadle, gives students not only an outlet to express themselves, but a platform in which they can display their work. Unlike any other art classes, students can put their artwork anywhere on campus, if approved by the administration. " In public arts we have the opportunity to go around and find spots on campus where we can put our artwork." junior, Emiliano Aguilar Mendez, said. Those specific pieces may be found on the tennis courts, in the 400 building, and even on the walls as you walk through the hallways.
Art means something different to everyone which is what makes this class so special. For Mendez, art provides a stress reliever, " Art for me is like a stress reliever. It clears my mind and takes me to another place where nothing else matters but the art piece." For some people, it is a way to branch outside of their comfort zone and try something new and for well known gymnast, Jordan Chiles, a senior, art class is just that. "I have always wanted to paint ever since I was little, so it was cool to be in this class." Participating this class has enabled Chiles to create pieces that otherwise would have been unfathomable. She has been able to set goals and learn the techniques in which are needed to meet siad goals. "I am creating more tiles for teachers and hopefully an art piece in the girls weight room." All the students have a lot planned for this class.