Jewels or Juuls, Which do High Schoolers Prefer?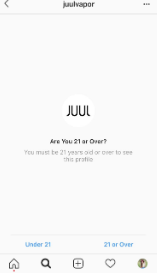 Hang on for a minute...we're trying to find some more stories you might like.
A juul is an e-cigarette that is battery operated, and contains a cartridge or "pod" consisting of nicotine, flavoring, and other elements. One juul pod has about the same amount of nicotine as a pack of cigarettes, however they contain less toxic chemicals than traditional cigarettes. The device has a sleek, small design, that represents a USB flash drive and can be charged just about anywhere. It is essentially the "Iphone" of e-cigarettes, and although it was created for adult smokers it has become extremely popular among high school students.
Federal law prohibits the use of any tobacco products (including juuls) for minors under 18 years of age, however the products advanced design, multiple flavors, and "safer" promise appeals to teenagers and has made "Juuling" a trend for students.
"18 is an age that is too young for any sort of smoking, especially juuling" says junior Jamie Packer "I think the age for anything related to smoking should be 21, the same as drinking"
The FDA has issued warning letters to retailers selling juul products, addressing the issue of preventing sales to minors.  However many students have found a way around this by purchasing products from a friend who is a legal buyer, or online via ebay and other easy access retail sites.
According to a Truth Initiative survey, nearly one fifth of high school students have reported seeing someone using a juul at school. The popularity of the e cigarette has caused much concern for schools across the country, some are even calling it an "Epidemic" among schools. Its discreet design and small vapor cloud produced make it extremely easy to use in a public place without being detected. Many high schools have even planted devices in bathrooms that sense changes of chemicals in the air and alert administration, which they are hoping will intimidate students and prevent them from juuling at school or at all. Despite seeing their popularity at schools, senior Maddi Cederholm believes "They should still only be used when you are trying to quit smoking".
Juul vapor stresses that they do not want their products being used by minors, and that they are a company created to help adult smokers quit. They just recently began anti-youth use initiatives, and using former smokers for advertisements instead of models and celebrities. They even use age authentication systems to verify that online buyers are 21 or older.
Although they have taken these actions, teenagers will still continue to use the product underage because of its youthful appeal and popularity.