A Final Celebration for Senior Athletes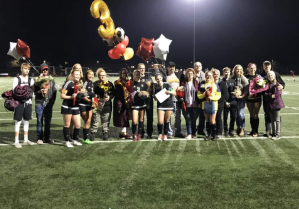 Hang on for a minute...we're trying to find some more stories you might like.
Senior Night is the event that every Prairie athlete looks forward to. It serves as a final celebration of the hard work that each athlete has put into their sport. This year, during October, seniors that participate in fall sports are being recognized.
The Prairie girls volleyball team acknowledges their seniors with balloons, signs, and gifts. Before the last home game of the season, the underclassmen and other varsity players stay after school to prepare for the occasion. The seniors also  fill out questionnaires about their varsity experience to be announced before the match.
Varsity senior, Molly Packer, explains that Senior Night is a "moment you are going to remember." She feels that it is a great way to wrap up the season. Packer plans to continue her volleyball career in college. The volleyball team's celebration took place on Oct. 18 this year.
The Lady Falcons soccer team also does their own rendition of Senior Night. Christy Thyron serves as the M.C. for the event. She introduces each senior and talks about their plans for the future, as well as their favorite memories from the past. Each senior is awarded flowers and gifts, which are brought by the mothers of the junior athletes.
Malaika Quigley, a four year varsity player, explains the impact that Senior Night has on those graduating. She says that the celebration is a "representation of what we have done over the past four years." She will continue to play soccer for Southern Oregon University next year, while studying to become a special education teacher. Quigley and the other senior soccer players experienced their special night on Oct. 18.
With many of Prairie's fall sports coming to an end this year, Senior Night allows a chance to give recognition to the athletes who have given each athletic program four years of hard work and dedication. It is a night that Prairie's athletes will never forget.