Senior Skip Day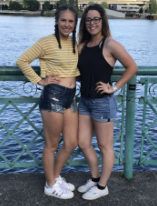 Hang on for a minute...we're trying to find some more stories you might like.
On Friday May 25th, it was the PHS senior class of 2018's senior skip day! With having the day off seniors get to sleep in, go to the beach, the list of activities goes on. "I was so excited to finally have a senior skip day, I went to the river with my friends, and it was a blast!" Shared PHS Senior Madi Bash.
At Frenchman's Bar on the Columbia River, three different high schools met there, and had a volleyball tournament. Music was blasting, and everyone was having a good time. "The diversity of people there was what made it so fun, I got to meet some of my girlfriends friends and they were all super cool" PHS Senior Chris Smith commented.
As the year comes to a close the seniors are embracing the time left with their classmates. All trying to make the best out of the last couple of weeks. After all, after graduation it's hard to keep up with old friends. "It was super fun being able to hang out with my classmates outside of school, and actually get to better interact with them" PHS Senior Ericka Mecham said.
Not all students went to the river, some explored the streets of Portland and did some sightseeing across the river. Coincidentally, the Portland Fair was going on May 25th as well. "Spending the day at the fair with my girl was an amazing day. I wouldn't have wanted to spend my senior skip day any way else!"   Shared PHS Senior Kailey St.Peter.
The senior skip day was a success, and a good day of memories being made for PHS seniors! The year is coming to an end, and it is time to continue on with the memory making before it is too late!