Post FFA State Convention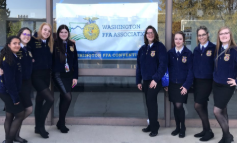 Hang on for a minute...we're trying to find some more stories you might like.
As the 2017-2018 school year nears the end Prairie High Schools FFA made their way to the State Convention in Pullman. The FFA chapter was led by Mrs. Weeks the schools Agriculture, Plant and Animal Science teacher and a few other volunteers. The group  made their way to the state convention via a long drive, they left from prairie high school wednesday morning and returned sunday night.
Baylee Saldino says her ride to Pullman was, "fun, and exciting. We played games and listened to lots of music." After some pit stops and lunch breaks the girls had finally made it to Pullman where Saldino and the other members of FFA stayed in dorms because, "it was more convenient to house everyone together."  Baylee thinks she did well in her events, "I think she did really good for the amount of preparation time she was given." Says Kaitlyn Rose the FFA President at Prairie High School. Saldino says she was definitely nervous when she had to speak in front of about 1,000 or more people and explain that she was running for state officer.
Meghan Fleming says her drive up to state was rather questionable, she says the driver of the van she was in break checked everyone a few times and was rather boring. She too stayed in a door her roommate was Ema Russo, Fleming went to different events like courtesy core  and a few works shops and a career fair. Fleming says that the energy at state was Dramatic and crazy but at the same time very fun. While she helped in courtesy core she felt, "Really important and welcomed." she states she had a fun year in FFA and can't wait to see what next year will bring for the club.