Senior College Opportunities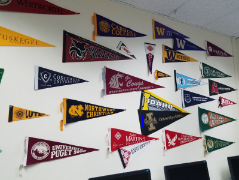 Hang on for a minute...we're trying to find some more stories you might like.
All around Prairie there are opportunities to get into a great college. While interviewing  Mrs.Howard in the college and career center she said that the way to go about looking for a college to attend is to write down any questions that you have, as well as write down what your interests are. Mr. Castro the school's assistant principal and athletic director also had similar view of the question by saying "Don't be afraid to ask questions, don't allow it to be overwhelming."
"There are different fits for you all over" Mrs.Howard replied when asked if a student should stay in state for college, in state is not always the cheaper choice. Developing a plan and using your resources in high school are also a way to give yourself a boost with college planning. Students shouldn't be to worried about going to college because college is not the best fit for everyone, whether the student goes to college or not is up to the student themselves.
"The hardest part is actually doing it" Mrs.Howard says about applying for colleges. Setting aside the time to actually apply needs to be done, "The first is hard, essays can be reused" Mr.Castro remarked. Mr.Castro added to keep your eyes open for scholarships.Mrs.Howard had the same to say about scholarships as well as to keep your eyes open for grants as well. "Get involved in high school use it to learn life skills" Mr. Castro added when talking about opportunities for students who don't play sports.
For those students who are looking for a sports scholarship, Mr.Castro added that not all students will get a scholarship for the sport they play. A way to get yourself noticed by a college is to go to their camps, advertise, and make videos to connect yourself with the fact you want to go to that college. "Be prepared to answer questions like what kind of kid are you?" Mr.Castro gave a few examples.